By Tony Scarcello. Tony is an author, speaker, pastor, and podcaster. He is the author of Regenerate: Following Jesus After Deconstruction, the host of The Regenerate Podcast, and a licensed Foursquare minister. Tony lives in Springfield, Oregon with the girl of his dreams, his wife Kelsey. You can connect with Tony on Twitter, Instagram, Facebook, or at tonyscarcello.com.
In the summer of 2004, I was transitioning from the 7th grade to the 8th. It was the year Friends ended (greatest sitcom of all time, don't @ me), Ugg Boots got famous, and George W. Bush was re-elected. It was when every other song on the radio was Yeah! by Usher, and the world was introduced to the Disney super-family, The Incredibles.
It was also the year I realized I wasn't straight.
I had inklings that something was different about me before that year—strange dreams, bewildering feelings—but I hadn't felt anything concrete. Then came church camp that August, and I bunked in a room full of boys my age. The camp was short-staffed, so we did not have a counselor in our room, which in hindsight feels like a comically naïve mistake on the camp's part.
---
 Buy Now!
Embodied: The Latest from Preston Sprinkle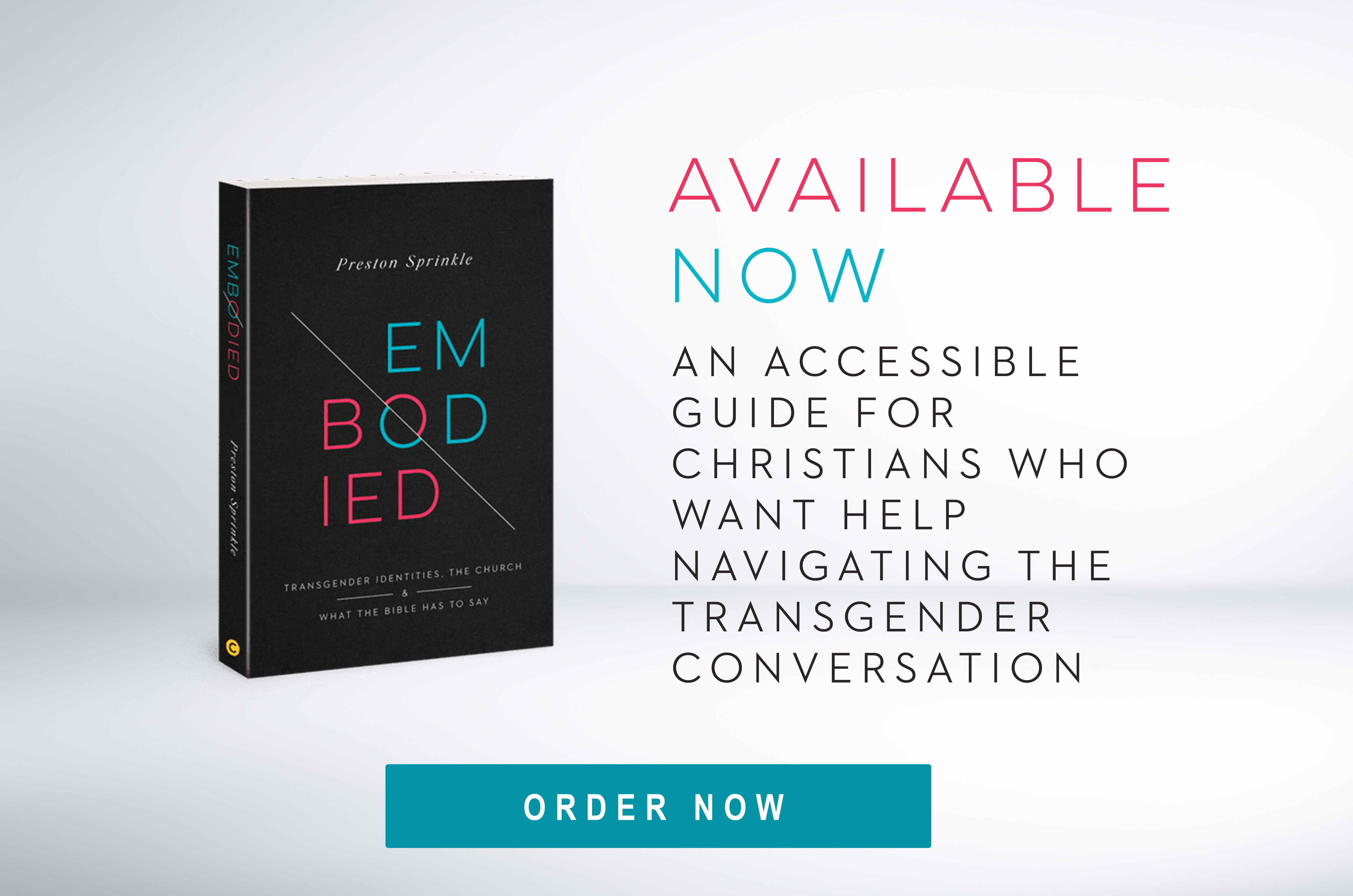 ---
I was experiencing confusing feelings toward one of the boys I was bunking with. As camp went on, one thing led to another, and I had my first sexual experience with him as a thirteen-year-old. This moment  began a twelve-year long journey of shame, hiding, depression, suicidality, and the deepest fear I had ever known.
I was raised in a very conservative Pentecostal environment. A few older ladies in my church taught in children's Sunday School, and they didn't hid their disdain for queer people. I often heard them compare LGBTQ people to pedophiles and people who have sex with animals. This wasn't part of the Sunday School curriculum, thankfully, but the topic would come up while people were mingling in the hallways before and after services, or when we'd have church socials.
You see, 2004 was also the year that Massachusetts became the first state to legalize gay marriage. Evangelical faith communities went into in a full-blown panic about how "the gay agenda" was going to sweep across the country and spiritually poison our youth. My well-meaning Sunday School teachers were some of the biggest crusaders in our church when it came to spreading anxiety about the impending increase in homosexual rights. Before my experience at camp, I thought these ladies were sweet, affectionate, and tender. And they were all of those things. But after camp, I only felt one thing when I was around them: fear.
As I continued on past eighth grade, and puberty was at the height of its tyrannical reign in my body, my sexual impulses and desires for certain people of the same sex only grew more difficult to ignore. I would come to church, and just seeing these ladies would cause anxiety to jolt through my body. If they found out my secret, life as I knew it would be over. I feared they would talk my parents into kicking me out of the house or sending me to one of those ex-gay camps we kept hearing horror stories about in the news. I grew convinced that if anyone heard my story I would lose my family, lose my friends, lose my church, and be treated like a monster. But I also feared if other people found out it would open the door for more sexual experiences, and I was scared that should certain opportunities present themselves I would not be able to resist.
If I could think of one word to describe my experience of being in the closet while growing up in evangelicalism, it would be fear. Fear of rejection from God, the church, and the people I loved the most. When I was growing up, the scariest things in the world to me weren't ghosts, monsters, boogeymen, or even other gay people; I was most afraid of the old church lady who could make you cookies and give you warm hugs one moment, and plunge into a vitriolic, impassioned, homophobic tirade the next.
When I realized I wasn't straight, I had only known two other teenagers who were gay. Both were a few years older than me. They both grew up in church, and when they came out of the closet, one was treated so atrociously by her church and family that she killed herself. The other was kicked out of his home at 16 and lived for a constant stream of empty sexual encounters for most of his teenage years and well into adulthood. Now he's a barista at a coffee shop, and he recently told me he isn't sure he has the capacity to love. It's not so much that he's not interested in love; it's that he doesn't think he's capable of it. He would much rather watch pornography or hook up with a guy he met online than commit himself to a monogamous relationship.
These people didn't come out of the closet expecting the church to change its mind on 2,000 years of teaching about sexual ethics, but they did hope to be treated as image bearers of God. Or at least they deserved to be treated as such.
I saw how they were treated and the direction their lives went. I heard how we were talked about from the pulpit, in church hallways, at dinner tables, and while hanging out with friends. Nobody in my circle knew that when they expressed their disdain for LGBTQ people, they were talking about me. No one knew that when they compared same-sex attraction to pedophilia while I was in the room, they were contributing to the pernicious lie that my desires made me a revolting person.
The fact that I ever felt too afraid to tell my parents or pastors when I first knew about my sexual attractions, that I ever feared my life was at stake, that I ever resolved to kill myself if anyone ever found out my secret—all these things are indicative of the deep sin of bigotry that exists in the soil of so many communities of faith.
But, I am happy to say, I don't think things are staying this way. In fact, I am willing to wager that a lot of churches approach LGBTQ people very differently now than they did forty, twenty, or even ten years ago.
I recently had the opportunity to share my story at a conference hosted by The Center for Faith, Sexuality & Gender. Before going on stage, as I sat in the back of the room watching Preston Sprinkle's presentation, I saw three ladies a few rows ahead of me who looked to be in their seventies. Immediately they reminded me of the church ladies I grew up with, and I made an involuntary mental-check to steer clear of them. Then I noticed something else: they were scribbling in their notebooks diligently, careful not to miss a point Preston was making. They shook their heads in grief at the alarming statistics he shared about the pain LGBTQ people have endured in the church, they wiped tears from their eyes, and they nodded in agreement at Preston's call to love LGBTQ people better while clinging to the truths of scripture.
My heart swelled. It was something so ordinary, but truly a sign of the times. There is still so much work to do in bringing the church to LGBTQ people. There is the careful and necessary work of sorting through the theology of human sexuality. There is the work of repenting for ways the church has massively failed. There is teaching the need for repentance from sexual sin in a world that has rejected the very idea of repentance. There is rebuilding credibility with the world. There is the unceasing, ruthless presence of the culture wars. All of this can make the work of reconciliation feel impossible and unbearable. And I know that there are still many faith communities that remain a petri dish of toxicity for LGBTQ people.
But I believe the needle is moving.
I shared my story at the conference. I was met with overwhelming love and support from the attenders. One pastor wept in front of me as he confessed his cruel treatment of LGBTQ people in the past, and asked that I speak forgiveness over him. A few people came up to me and shared for the first time ever that they themselves are attracted to the same sex.
And those three older ladies? They hugged me, said they were sorry for what I had endured, and told me to keep sharing my story. They did not shame me into silence and hiding. They applauded my vulnerability and encouraged me to keep going.
This is not the world I grew up in. For all the work that remains to be done, I can say with confidence that the church is becoming safer for people like me than it was when I was a kid.
And that is worth celebrating.