By Sam Wan. Sam is a local church pastor, a ministry worker in the space of sexuality and gender, and a board member for several disability ministries. He loves researching in practical theology, reading poetry, looking at art, and podcasting at Conversations with Earl Grey and Espresso and Earl Grey.
I unwound my car window when I stopped at a traffic light, and a car pulled up next to me with music blaring. That was when I first heard the words: "Never mind, I'll find someone like you…" Who, I wondered, was this singer with the mature voice, moving lyrics, and echoing tone that resonated right into my soul? It turns out I was two years behind the trend (as I am with most trends) and this singer was Adele, a world-wide sensation already popular well before I unwound my car window that summer afternoon. But from then on, Adele became a constant companion walking with me through my twenties.
Like a constant companion, she has released a new album on every one of my milestone birthdays; and last year was no different, when she released her new album "30." When she began making music, her pieces explored heartbreaks, anger, jealousy, defeat. Nostalgia, delight, memory. Hellos, goodbyes, and everything in between. In her new album and stage of life, she balances grieving loves lost in divorce, anxiety of motherhood as a single person, and the healing lessons learnt as her wounds heal.
---
  Buy Now!
Embodied: The Latest from Preston Sprinkle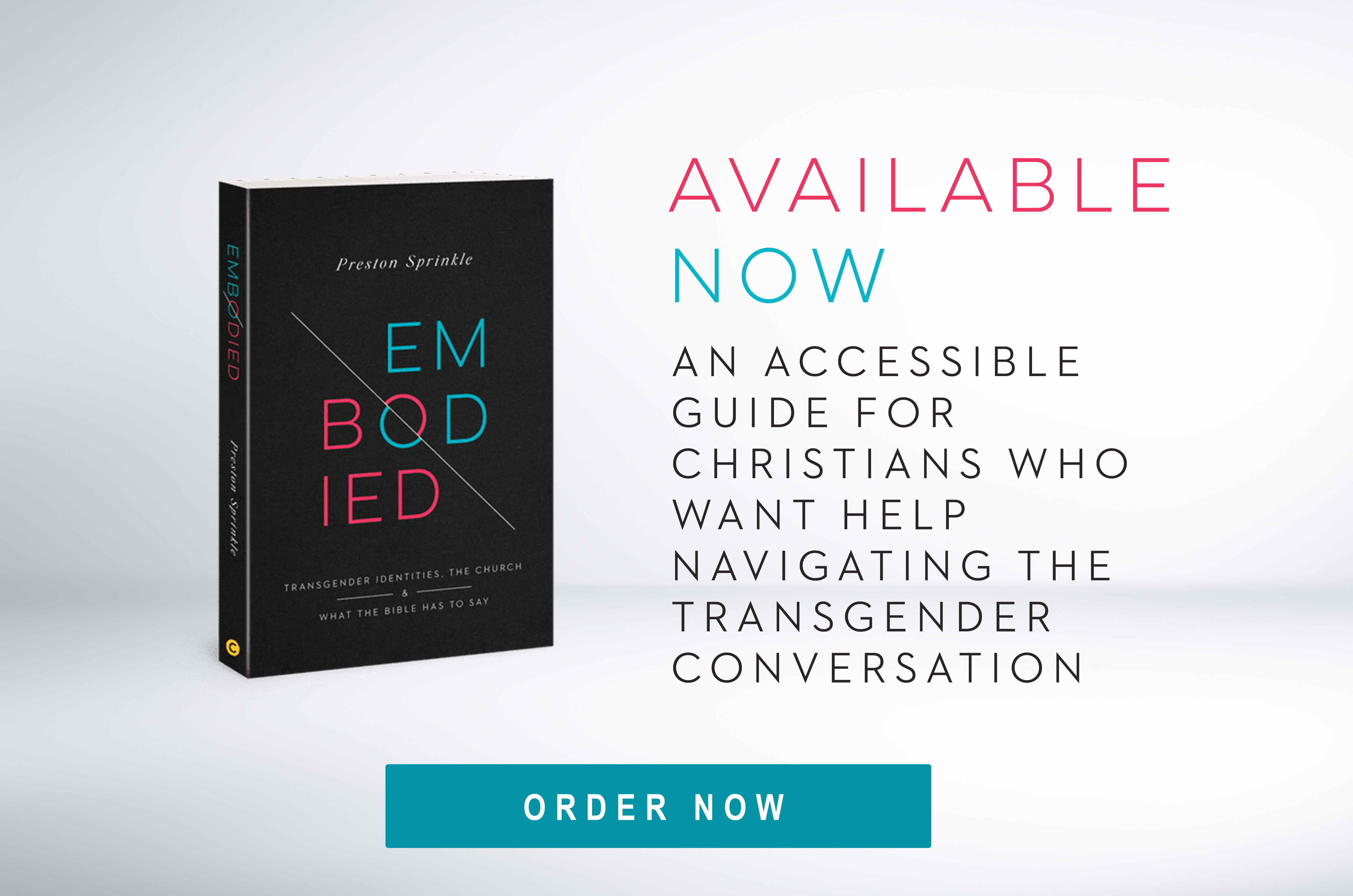 ---
Her musical journey from bitterness to acceptance has spanned eleven years, from 19 to 30. Awash with blues and greens, muted raindrops mixed with tears, and a James Bond theme song, Adele's musical journey lingers in the bittersweetness of what it means to be human—the delicate balance that loving may one day lead to losing, cherishing may lead to letting go, and joy may lead to sadness. These are experiences that we as humans often find difficult to journey through, in ourselves and in our counsel and relationships with others. Yet we fool ourselves if we ignore their reality.
These experiences are also all too familiar for celibate Christians who experience diverse sexuality: loving and losing. Cherishing and needing to let go. Lonely unfulfillment. Often the tried and true saying "Jesus is enough" is true but trite, because a lot of our lives (whether gay or straight) are lived in between emptiness and fulfilment.
A lot of the time, I want to get from point A to point B with as little waiting, pain, and uncertainty as possible. I want to get to the train station just in time to board my train and leave, not to suffer through a maddening series of delays. ("Ladies and gentlemen, due to signal issues, the three forty-five train has been delayed indefinitely.") I want the path of least resistance that is filled with the least pain. Instead of lingering in the grey uncertain fire that tests my faith, I want to move from "how long, O LORD?" to "Hallelujah!" in the space of a comma.
Adele sings:
"Everybody tells me it's 'bout time that I moved on
And I need to learn to lighten up and learn how to be young
But my heart is a valley, it's so shallow and man-made
I'm scared to death if I let you in that you'll see I'm just a fake"
Perhaps the unfulfillments, the incongruence, the in-between life is in fact the unavoidable reality of our very existence in a "now and not yet" world. As followers of Jesus who live in between Jesus' ascension and his return, between a promise announced and a promised fully realised, these murky grey moments of life are glimpses of the universe's unfulfilled fulfilled-ness. They are moments where we truly see the reality of the groaning of creation (Rom 8:22) When we believe we are fulfilled completely in this life, we are dipping precariously into the valley of "over-realised eschatology." To think we have it all right now is to delude ourselves. To tell others that they will be completely fulfilled in this life is theologically untrue, biblically indefensible, and pastorally irresponsible. We are just "jars of clay," plastic takeaway containers that crack and crunch under the weight of our current experience of being "afflicted…perplexed…persecuted…struck down…" (2 Cor 7-9).
"I feel like today is the first day since I left him that I feel lonely

And I never feel lonely, I love being on my own

I always preferred being on my own than being with people

And I feel like maybe I've been, like, overcompensating

And being out and, and stuff like that to keep my mind off of it"
On the other hand, to believe we can never taste goodness and fulfillment in this life is to dip precariously into the valley of "under-realised eschatology," filled with defeatism and "things-never-change-ism." Though we are just "jars of clay," we are held up by the "surpassing power of God" (2 Cor 4:7), through the sufficiency of his grace (2 Cor 12:9). By this power, "[w]e are afflicted in every way, but not crushed; perplexed, but not driven to despair; persecuted, but not forsaken; struck down, but not destroyed; always carrying in the body the death of Jesus, so that the life of Jesus may also be manifested in our bodies" (2 Cor 4:8-10). We have been raised with Christ (Col 3:1) and are being "transformed into [his] image" (2 Cor 3:18). We have the hope that by being "rooted and established in love, [we] may have power, together with all the Lord's holy people, to grasp how wide and long and high and deep is the love of Christ, and to know this love that surpasses knowledge—that [we] may be filled to the measure of all the fullness of God" (Eph 3:17-18).
Life is walking in the tightrope of our "now and not yet-ness." The "now and not yet-ness" is the murky, strange, uncomfortable place where we are at the same time "sorrowful, yet always rejoicing; as poor, yet making many rich; as having nothing, yet possessing everything" (2 Cor 6:9-10). This is the existence of celibate gay/SSA Christians who choose to live according to Scripture. And if we believe these soundtracks written for us by Paul the Apostle and Jesus the Son of God, this existence is also the experience of everyone who follows Jesus.
Adele challenges me to recognize that the path from emptiness to fulfillment may take eleven years or more (and four albums in between). She challenges me to find language for my experiences in the in-between, to navigate the discomfort, to understand and feel my losses, to sit through jadedness, anger, and wanting to strike back. In turn, she challenges how I minister to those who walk this path of love lost, grief gained, divorces, breakups, jadedness, ugly crying. Perhaps another person's path from A to B will not look like my path. Perhaps misplaced platitudes can be as weighty as millstones. Perhaps some smiles are merely masks. Perhaps life is filled with paradoxes—to love is to lose, to cherish is to let go, to have joy is to feel sorrow.
Adele challenges me to be more deeply human.
Paul the Apostle could very much record a collab with Adele. 
Adele may not be a follower of Jesus, and her songs may not be about God or the gospel. But on days when I am blue, unsure whether there is light at the end of the tunnel, I listen to Paul the Apostle in one ear and Adele in the other. I take out the vinyl of disorientation,
place it on the turntable of life, let the needle thread through the grooves of not-yet-ness, and cry.